Workshop

Reviews
German sturmpioniere w/assault raft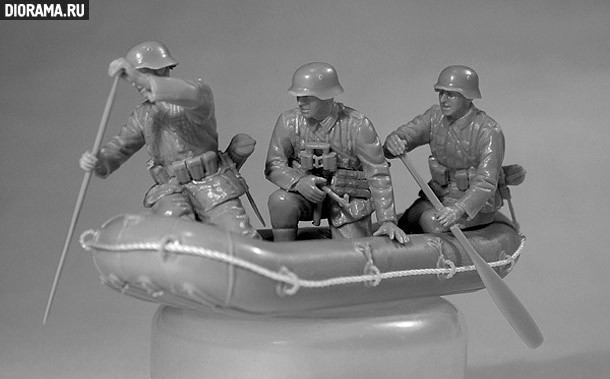 Set of German "sturmpioniers" with a rubber boat is also not new, but nevertheless, similar, has remained unnoticed by many modellers. The author wants to draw attention to this certainly interesting Dragon kit.
Kit contains three figures of German sturmpioneers and one small rubber boat. Figures are in classic old Dragon style with accurate proportions, life-like faces and nice wrinkles. Kit includes also sprue with German Mausers 98k and MP-40 and sprue with boat parts.
Nice kit for both big dioramas and little vignettes too.
Article Discussion (comments: 6)
09.11.05 [19:24]
Александр Зеленков

Лодка ПУСТАЯ. От такого количества человек в такой маленькой лодке и так неравномерно операющихся на неё были бы несколько вмяты борта в точках опоры и были бы складки. Это точно. <br />
Про отсутствие швов и слабую деталировку лодки Дмитрий уже сказал. Лодку лучше сделать заново или эту глубоко конверсировать. <br />
Леер толстоват.
12.11.05 [13:00]
lelik vlz

А какой код этого набора?
13.11.05 [16:55]
Alex78rus

to 2: - 6076<br />
13.11.05 [16:59]
lelik vlz

спасибо
28.03.06 [09:53]
иж-27 ( Краснодар )

09.02.10 [14:26]
moltke71 ( Украина,Николаев )

Кто-нить может такой наборчик продать - 6076?
Или лодку отлить заново?
Такой набор счас тяжело купить

Лучше позхже, чем никогда