Gallery

Training Grounds
For the Motherland!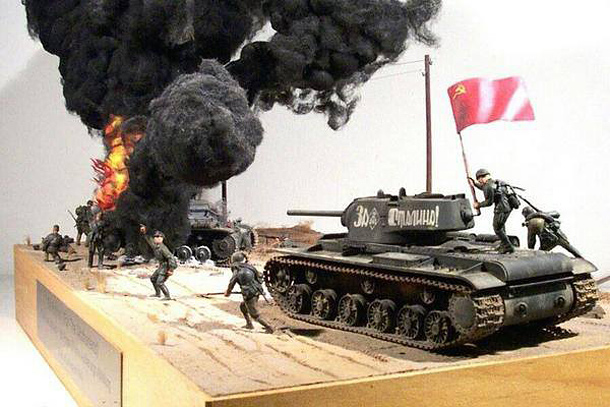 This is My Diorama Called "Za Rodinu" I built this diorama in 2002 and since have added German 88mm Rounds Exploding in 2 places, as you will see.
This Action took place SouthEast of Leningrad in the Summer of 1942 against Recon Elements of The 9th Panzer Division Aufklurungs Abtielung .
The Models are 1/35 Scale Tamiya Panzer II F ,and Tamiya KV-1, The Figures are Zvezda,Tamiya ,and Warriors for The Commander with the Flag.
The Panzer II Burntout wheels were scratchbuilt The Tracks Are Modelkasten,The Smoke is Cotton Airbrushed and Glued to Plastic Sprue Frames. The Fire is Airbrushed Cotton ,and The flames are Clear Plastic airbrushed with Tamiya Clear Red,Yellow and Orange.
The KV-1 Is straight outta the box with Modelkasten Tracks and Weathered with Artist Pastels . The 88mm Rounds Exploding are Metal wire frames with cotton Glued and airbrushed .
I hope you like it and will give you more pictures of my dioramas . You can also see more of my Models on my Youtube Chanel "Panzerkiel13"
Work Discussion (comments: 1)